Fauxni(Pokémon)
Edit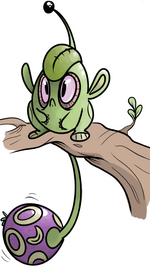 Fauxni is a Grass-type. It does not have any evolutionary relatives. It is <height> in height, it weighs <weight>, and has the ability <ability>. In the Dawn Pokédex, its number is #106, and it is classified as the <Classification> Pokémon.
PhysiologyEdit
<N/A>
Gender DifferencesEdit
<N/A>
Special AbilitiesEdit
<N/A>
Game Data
Edit
Pokedex EntryEdit
Game LocationEdit
'
HP:
Attack:
Defense:
Special Attack:
Special Defense:
Speed: 
By Level Up
Start - Splash Start - Tail Whip 5 - Doubleslap 9 - Growth 13 - Absorb 17 - Vine Whip 21 - Charm 25 - Slam 29 - Mega Drain 33 - Camouflage 37 - Sunny Day 41 - Giga Drain 45 – Solarbeam
By TM/HM

<N/A>
Name OriginEdit
<N/A>
Ad blocker interference detected!
Wikia is a free-to-use site that makes money from advertising. We have a modified experience for viewers using ad blockers

Wikia is not accessible if you've made further modifications. Remove the custom ad blocker rule(s) and the page will load as expected.